L2Top.gr - Το πρώτο Ελληνικό L2Topzone list που δεν κάνει διακρίσεις!
Owner: Hestia
Member Since: 2017-10-06 12:48:39
Language:
Platform:

L2JAVA

Chronicle:
Website: http://hestia.su
Status: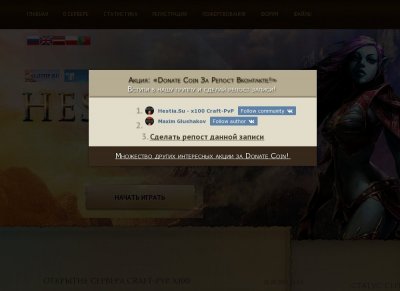 Server rates and features
GM Shop

NPC Buffer

Global GK

Custom Zones

Custom Weapons

Custom Armors

Offline Shop

Donations

Server Info
Basic information: Profession is taken automatically (the dialog in .menu) All appear in Dion level 10 in top NG gear. Profession: The price of the first profession free of charge The price of a second career for free Third profession - 40.000.000 Adena Rates: Exp/Sp: x100. Adena: x20. Drop: x20. Spoil: x15 Seal Stone: x4. RB Drop: x5. Epic RB Drop: x1. Quest Drop: x7. (rates raised only on some quests, read more below) Quest Reward: x1. The Manor: x1. Quests with an increased rate: Seductive Whispers A Game of Cards Seekers of the Holy Grail Guardians of the Holy Grail The Zero Hour Legacy of Insolence Supplier of Reagents The Finest Food Relics of the Old Empire Gather The Flames Exploration of Giants Cave Part 1, 2 Alliance with the Orcs KS. ETRA Alliance with the Varka Silenos The Hunt of the Golden Ram Mercenary Force In Search Of Fragments Of The Dimension The War with Orcs KS. ETRA The War with the Varka Silenos The Rise and Fall of the Elroki Tribe Rates with a premium account: Exp/Sp: x200. Adena: x40. Drop: x40. Spoil: x30. Seal Stone: x8. Sub-class and Nobless: Sub-Class does not require completing the quest. The maximum number of 5. Simplified Noblesse quest. The reagents are sold in GM-Shope. Witch Kalis and Alchemist Matild (the witch and gnome in the outskirts of the Ivory Tower) is set near the TA in the Ivory Tower for your convenience. Respawn Noblesse RB = 3 to 4 hours. The level of the Noblesse RB and safety - 78. *to obtain Staff with Nobl RB on the quest, you have to be on the SAB class 75+ level.